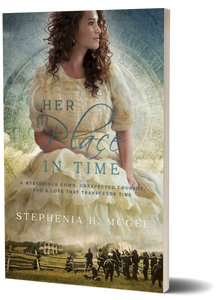 Her Place in Time (Paperback)
A Christian Time Travel Romance
Rather have it in eBook? Click HERE
Can love offer a new future…in the past?

A mysterious gown, unexpected courage, and a love that transcends time. 
Nursing student Lena Lowery faces a grim diagnosis and a dangerous surgery. On the cusp of the life-changing procedure, Lena stays at the Rosswood Plantation Bed and Breakfast for one last weekend with her mother. There in an antique armoire, Lena discovers a Civil War-era gown that holds an unimaginable cure…a trip back in time to when the house served as a hospital.
Confederate Sergeant Caleb Dockery lost his brother, his eye, and nearly his life. Stuck in a makeshift infirmary, he's counting the days until he can return to duty…and seek revenge. When a stranger appears, he suspects she's a spy. If he can't return to duty and find the revenge he craves for his brother's death, he can serve his country by stopping this traitor. But her nursing skills are saving lives, and her courage and independence stirs his heart. When Lena's safety is threatened, Caleb must strain the loyalties that bind him or risk losing her forever. 
Caught between a future that holds no promises and a past that could offer new life, Lena must face an extraordinary decision. Should she return to her own time where her days are numbered? Or can she and Caleb find a love that stretches across time?

If you like historical romance with a twist, strong female characters, and heroes that transcend eras, you'll love this journey through time that tests the limits of love. 
 
*Her Place in Time is set in the house from The Accidental Spy Series (previously published as Liberator Series), just prior to the start of An Accidental Spy (Previously Leveraging Lincoln).  Fans of the series will enjoy seeing Annabelle and Peggy in this new novella, but it's not necessary to have read the series prior to reading the novella.
196 print book pages
Enjoy a first page sample:
Chapter One
Lorman, Mississippi
Late October, Present Day
If only leaving her problems behind were as simple as leaving town. Lena drummed her fingers on the faded paint on the car door and watched the landscape slide by. Wind spilled through the open window, teasing strands of her hair free and whipping them around her face. She thought to brush them away but decided against it. She might as well enjoy the feeling while she still had the chance.
"Are you even listening to me, Amberlena Elizabeth?"
Lena blinked and turned her attention from the passing trees to her mother's concerned expression. Any time Momma used Lena's full name, she meant business. "Sorry, Momma. I was just thinking."
Momma reached across the narrow console in her vintage Volkswagen bug and squeezed Lena's hand. "We promised we wouldn't think on that for two whole days." Tears filled Momma's deep brown eyes, but she shooed them away with an overstuffed smile.
Lena fashioned a smile of her own, though her lips seemed to strain against the falsity. She'd promised they would enjoy this mother-daughter trip and pretend life wouldn't be waiting for them when they got home. And Momma certainly deserved the break. If it would make her happy, then Lena would gladly pretend. She brightened her tone. "Tell me something about this one."
Momma wiped away the lingering drops of reality from her eyes and cut on the blinker. "They say some of the guests have seen a man and woman walking arm in arm on the front lawn." Her voice held a mixture of humor and awe. Momma always did like a good ghost story, even if she didn't technically believe in them.
Lena leaned forward and studied the big white house looming at the end of the long drive. Four massive white columns supported the two-story mansion, another testament to what Momma called the age when cotton was king. Deciding to tease Momma a little, she shrugged. "What's so special about that? No couples allowed on the lawn?"
Momma rolled her eyes. "You hush now. You know what I mean. They say he's still in his Confederate uniform and she's wearing one of those big hoop dresses."
"They probably paid actors to cause a stir."
Momma grinned. "Guess we'll find out." She pulled up to the side of the house and parked underneath an ancient oak. After giving Lena a wink, she hopped out.
Lena paused with her hand on the door handle and drew three deep breaths. Two days to spend with Momma and try to forget. Two days out in the fresh country air with nothing to do but chat and remember the good times. To have one last retreat before…
"Come on now, Lena," Momma said, poking her head back inside the car. "What are you waiting on?"
Lena swung the door open, placed one worn tennis shoe onto vibrant grass, and stepped from the car. Birds trilled and flitted around in the branches overhead, the stately tree having not yet decided to don its golden autumn gown. Lena flung her bag over one shoulder and rounded the front of the car to help Momma get the latch unstuck. Volkswagens were strange like that, with the trunk in the front and the engine in the back. Part of the charm, Momma always said.
What readers are saying:
---
We Also Recommend
---