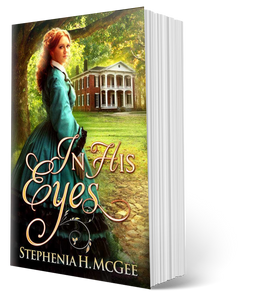 In His Eyes (Paperback)
A Christian Historical Romance

Prefer it in eBook? Click HERE
She pretends to be a Yankee officer's widow in order to survive. But what will she do when he returns home to a wife he didn't marry?
Ella Whitaker rescues a newborn from the dying arms of a woman of ill repute and at long last she has someone to love. In need of a wet nurse, she arrives at Belmont Plantation just as Federal soldiers demand to speak to the owner. Thinking quickly, Ella masquerades as a Yankee officer's widow in order to have a roof over her head and a home for the child. But now she must work even harder to hide her Scottish immigrant roots and play the part of a refined Southern lady or risk losing her only hope to keep her new son.
Union Major Westley Remington has dedicated his life to serving his country. The Civil War divided his family, tore his thoughts of glory, and left him with a wound that may never heal. Westley returns home to settle his father's estate at Belmont Plantation, only to find his house is being run by a fiery and independent woman—one many believe to be his wife. Now he is faced with a conflict he's never been trained to fight, and one she has yet to conquer.
350 print book pages  
---
We Also Recommend
---