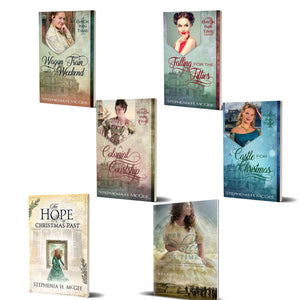 Time Travel Book Bundle (Paperback)
US Shipping addresses paperback.
Looking for International paperbacks? Click
HERE
Paperback Set Includes:
Back Inn Time Series Books 1-4
The Hope of Christmas Past
Her Place in Time
About this premium Paperback set:
Book One: A Wagon Train Weekend
It was just one night at a Victorian B&B. Until they woke up in 1857.
Collette Donaldson never should have taken her boyfriend to her cousin's wedding. Or introduced him to her parents. After a disastrous weekend, all she wants is to get back home and sort out the mess that had once been their relationship. A heartbreaking fight, a flat tire, and an inconvenient storm force her and Seth to stay the night at a quaint bed and breakfast. But when Collette finds an antique photograph of herself, circumstances quickly shift from weird to unimaginable.
Seth Stone was ready to propose. Now he isn't sure if he and Collette even have a relationship. People he'd never want to be his in-laws, an irritable girlfriend, and now he has to spend the night in a creepy old Victorian inn. He should have never wondered how things could possibly get worse. When they wake up stranded on a wagon train in 1857, Seth is determined to get home. But the only way to get out of the past is to face the problems stealing their future.
Book Two: Falling for the Fifties
What would you do if you finally found Mr. Right…in the wrong time?
Maddie Palmer is done with dating. Internet matchmaking landed her one dud after another. Tired, frustrated, and finished with love, Maddie stays the night at a quirky Victorian bed and breakfast on the eve of her grandparents' sixty-fifth wedding anniversary. When she suddenly wakes up in 1956, she gets the unexpected chance to witness her grandparents' fairy tale love unfold and finally learn the secret to finding "the one." But what is she going to do when she meets her own Mr. Right—only to discover he's Mr. Wrong Time?
Nathanial Hall is set on one mission. Pass his training exam and join the Hurricane Hunters at Keesler Air Force Base. When he mysteriously finds himself on base sixty-five years too early, there can only be one explanation. He has to save the crew destined to die in Hurricane Flossy. But when a beautiful singer snags his heart and derails his carefully planned life, he has to decide if staying in the past is worth risking his entire future.
 Book Three: A Colonial Courtship
Sometimes time travel is just the miracle you need. Unless it sends you to the last place you want to go.
Abigail Martin needs a miracle. After a crushing family secret stole her job, her apartment, and her future, she escapes her ruined life and risks a return to her hometown. Hints from a trusted friend that a mysterious bed and breakfast could grant her deepest desires lead her to rent a room. But when her former crush—a man she's spent months avoiding—won't leave her side, they both end up facing more than just the past she tried to escape.
Evan Blake finally has a second chance to win his first love, and he won't let a little thing like her refusal stand in his way. When Abigail's insistence on staying at a weird inn dumps them in Colonial Boston on the doorstep of the Revolutionary War, suddenly finding a way to ask her out seems the least of his worries. Despite the bizarre and unimaginable challenges of the 1700s, he refuses to give up on capturing her heart. But will finding their way home mean losing her forever?
Book Four: A Castle for Christmas
A crown meant for a princess. A medieval castle. And a one-way ticket to an unforgettable romance.

A life-changing diagnosis sends Avery Stuart on a last-chance Christmas road trip. The cheery bed-and-breakfast offers a festive way to spend the holidays alone. But when she finds her name listed on an ancient family tree next to an English baron, her trip suddenly takes a startling turn—no fairy godmother included. She might have gotten the Cinderella dress, but her prince is more beast than charming.

On the verge of seeing his people starve, Sir Robert de Northwood must seek a bride with a hefty dowry in order to salvage what war has wrought. The night he must choose his wife, a strange foreign princess arrives at Northwood Castle dressed in enough jewels to feed his barony for a year—and she's entirely alone. Sir Robert is intrigued by the fascinating woman and offers his protection by way of a sensible marriage arrangement that will benefit them both. But when the mysterious Princess Avery of Gardenia claims to be from the future, how much will he risk losing in order to keep her close?
♥ The Back Inn Time series books are fun, faith-filled stories of what it might be like to suddenly experience life in a different time. These clean historical romances are packed with humor and adventure. Perfect for fans of dual timeline or time slip stories and Christian historical romance, these books answer the question every historical fiction fan wonders—what would it be like if I went back to that time? If you enjoy the wholesomeness of Amish, Western, or frontier fiction and adore romantic comedies, then a visit to a seaside Victorian inn where you can "step back inn time and leave your troubles behind!" is for you.
The Hope of Christmas Past
When a mysterious painting offers her a trip to the past, will Isla find new hope for her future?

On the brink of aging out the foster system, the last thing Isla Laird wants is to spend Christmas in an old-fashioned plantation. What's the point of bonding with her foster mom when it's too late to ever be adopted? But when a mysterious painting suddenly thrusts her into the nineteenth century, Isla is forced to face hurts and memories she's long tried to bury. With time running out and her heart in tatters, can God use an impossible miracle to bring Isla hope for a new future?

A heartwarming afternoon read of faith, family, and Christmas miracles. 
Her Place in Time
Can love offer a new future…in the past?

A mysterious gown, unexpected courage, and a love that transcends time. 
Nursing student Lena Lowery faces a grim diagnosis and a dangerous surgery. On the cusp of the life-changing procedure, Lena stays at the Rosswood Plantation Bed and Breakfast for one last weekend with her mother. There in an antique armoire, Lena discovers a Civil War-era gown that holds an unimaginable cure…a trip back in time to when the house served as a hospital.
Confederate Sergeant Caleb Dockery lost his brother, his eye, and nearly his life. Stuck in a makeshift infirmary, he's counting the days until he can return to duty…and seek revenge. When a stranger appears, he suspects she's a spy. If he can't return to duty and find the revenge he craves for his brother's death, he can serve his country by stopping this traitor. But her nursing skills are saving lives, and her courage and independence stirs his heart. When Lena's safety is threatened, Caleb must strain the loyalties that bind him or risk losing her forever. 
Caught between a future that holds no promises and a past that could offer new life, Lena must face an extraordinary decision. Should she return to her own time where her days are numbered? Or can she and Caleb find a love that stretches across time?

If you like historical romance with a twist, strong female characters, and heroes that transcend eras, you'll love this journey through time that tests the limits of love. 
 
*Her Place in Time is set in the house from The Accidental Spy Series (previously published as Liberator Series), just prior to the start of An Accidental Spy (Previously Leveraging Lincoln).  Fans of the series will enjoy seeing Annabelle and Peggy in this new novella, but it's not necessary to have read the series prior to reading the novella.
1221 print book pages
What readers are saying:
---
We Also Recommend
---