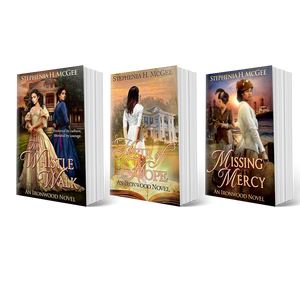 Ironwood Plantation Family Saga Complete Series (Paperback)
Enjoy the entire Ironwood Plantation Family Saga in one complete set.

Rather get them in eBook? Click HERE
Book One: The Whistle Walk

In a time where unity seems impossible, two women will forge a friendship in the fires of redemption and thrust Ironwood into a new future—where the battle for freedom has merely begun.

Stolen from her home and forced into the disgrace of being sold, Ruth refuses to let go of the faith that holds her heart together. Determined to survive in her new role at Ironwood, Ruth never expects to find any common ground with the plantation owner's wife. But when God keeps nudging her to speak up for her race and forge an unlikely friendship, she makes a dangerous choice that could cost more than she's ready to give.
Bride to a man she barely knows and bound by her secrets, Lydia is struggling to step into her new title as the mistress of Ironwood. Inspired by the fiery spirit and quiet dignity of an enslaved woman, Lydia's eyes begin to open to the harsh realities of the world around her. But if there is ever going to be a new future for Ironwood, she will have to start with shedding her own pretenses.
Book Two:
Heir of Hope 
Emily Burns grew up an orphan, so she never expected to inherit a southern plantation. When she discovers an old diary hidden in the attic, her life becomes strangely entwined with her Civil War ancestor and she soon begins to wonder how a woman long dead can keep showing up in her dreams.

Torn between her strange desire to honor Lydia's wishes and practicality, Emily cannot decide if she will keep Ironwood. Yet the house calls to her like a melancholy siren, and Emily cannot resist its tune. Resolving to stay only for a little while, and telling herself her decision has nothing at all to do with the handsome handyman helping with restorations, Emily begins to unravel the history of Ironwood – A tale of love and loss, hope and redemption. When the story seeps into her heart, Emily finds that two women separated by centuries can share the unique bonds of family ties, and that both her past and her future reside in the soul of Ironwood. 
★ Note to reader:
Because of the stand-alone nature of
 

The Whistle Walk

 

and

 

Heir of Hope, please note there will be some redundancy in the chapters containing Lyida's diary for the series reader.
Book Three:
Missing Mercy
The venture ahead could leave their friendship behind.
Made a safe-haven after the Civil War, Ironwood Plantation is a refuge of equality for the formerly enslaved. But twenty years and a new generation later, they have become an isolated community with little contact with the rest of the world.
Mercy Carpenter is everything the world thinks she shouldn't be. Educated and adventurous, she longs to make a life for herself beyond the beautiful prison of Ironwood. When she secretly submits an article to the Boston Globe under a man's name and receives an enthusiastic response and an offer for employment, she's determined to take advantage of the opportunity. But she isn't prepared for a startling world that won't accept her color or her gender, and her ambitions soon land her in grave danger.
The privileged daughter of a plantation owner and an aspiring suffragette, Faith Harper is determined not to marry. Especially not her father's opportunistic new business partner. She doesn't want any man telling her what to do, least of all the annoyingly chivalrous Nolan Watson. But when Mercy goes missing, Faith will do anything to find her best friend, even if it means trusting a man she doesn't understand. In a time where prejudices try to define them, Mercy and Faith must push the boundaries of their beliefs and trust in the God who holds the keys to freedom.
1,087 print book pages
---
We Also Recommend
---