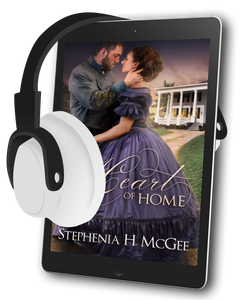 The Heart of Home Audiobook and eBook bundle
Get both the audio and eBook editions of In His Eyes at a discount! 
He asked if he could die on her porch…but instead he brought hope for new life.
Once a wistful romantic, Opal Martin now simply aspires to scrub the remnants of the War Between the States from her tattered life. But when a nearly drowned soldier appears and asks if he can die on her porch, she must guard against the sudden revival of her heart's hope for love. 
Haunted by the war, Tristan Stuart just wants to escape the pain. But when he wakes up at a house that looks too much like home with a woman determined to mend him, he may discover a new life worth fighting for. In order to save the last of what Opal holds dear, will he become the man she needs or let the troubled waters carry him away? 
Fans of In His Eyes will also enjoy seeing Ella and Westley again in Opal's story. 
Listening time: 4 hours 18 min
 Listen to an audio sample HERE
How it works:
Download the

 

BookFunnel app

 

on your Android, iOS, or Amazon Fire tablet.
Log in with your email address (that you used at checkout)
Tap "Library" at the bottom of the app.
Tap a book to start listening!
You can also listen in your browser 
How the eBooks work:
eBooks are also immediately in your BookFunnel app library! Simply click the eBook to listen along with the audiobook right in the app or click "Send to another app" (like kindle) or "read on another device" to send the book to your kindle, nook, kobo, etc. 
---
We Also Recommend
---