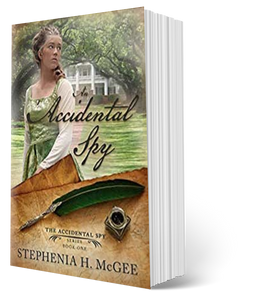 An Accidental Spy (The Accidental Spy Series book 1) (Paperback)
The Accidental Spy Series Book One

*Note: There are three books in this series and they MUST be read in order. 
Prefer eBooks? Click HERE
★ An Accidental Spy is a 2020 rewrite of the previously published title Leveraging Lincoln (The Liberator Series book one)
About this premium paperback:
Captured and mistaken as a spy, can she unravel a conspiracy before her secrets cost a man his life?

Some secrets change the world...
Once a privileged heiress, Annabelle Ross is now struggling to hold her home and her life together through the devastation of the War Between the States. But with a forced marriage and a desolate future on the horizon, her hopes are beginning to dwindle. When she discovers an encrypted note on a dying soldier, she seizes the opportunity to use it to deliver a message of her own. Instead, she's mistaken for a spy and captured. Now her only chance to escape is the handsome soldier in charge of discovering her secrets.
After his brother is captured by enemy soldiers, Matthew Daniels vows to rescue him at any cost. When a secret society offers him a chance for retribution, Matthew must decide between his loyalties and his convictions. To prove himself, he'll have to first unmask the spirited spy holding the key to their plans or risk losing his brother forever.
★ Book one of three. The Accidental Spy series is an adventurous romantic trilogy following Annabelle Ross and Matthew Daniels. Please note these books must be read in order and that while each book has a complete storyline, the overall plot is completed throughout the trilogy.

368 print book pages
What readers are saying:
---
We Also Recommend
---