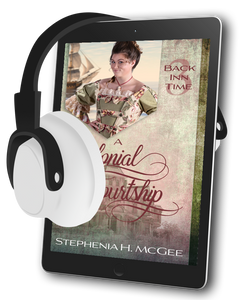 A Colonial Courtship: Audiobook & eBook Bundle
Get both the audiobook & eBook formats of A Colonial Courtship and save!
Back Inn Time Series Book 3
*Each book in the series can be read as a stand alone title. 
Want to start at the beginning of the series?
 Click HERE
Sometimes time travel is just the miracle you need. Unless it sends you to the last place you want to go.
Abigail Martin needs a miracle. After a crushing family secret stole her job, her apartment, and her future, she escapes her ruined life and risks a return to her hometown. Hints from a trusted friend that a mysterious bed and breakfast could grant her deepest desires lead her to rent a room. But when her former crush—a man she's spent months avoiding—won't leave her side, they both end up facing more than just the past she tried to escape.
Evan Blake finally has a second chance to win his first love, and he won't let a little thing like her refusal stand in his way. When Abigail's insistence on staying at a weird inn dumps them in Colonial Boston on the doorstep of the Revolutionary War, suddenly finding a way to ask her out seems the least of his worries. Despite the bizarre and unimaginable challenges of the 1700s, he refuses to give up on capturing her heart. But will finding their way home mean losing her forever?
♥ The Back Inn Time series books are fun, faith-filled stories of what it might be like to suddenly experience life in a different time. These clean historical romances are packed with humor and adventure. Perfect for fans of dual timeline or time slip stories and Christian historical romance, these books answer the question every historical fiction fan wonders—what would it be like if I went back to that time? If you enjoy the wholesomeness of Amish, Western, or frontier fiction and adore romantic comedies, then a visit to a seaside Victorian inn where you can "step back inn time and leave your troubles behind!" is for you.
Listening time: 5 hrs 17 mins
How it works:
Download the

 

BookFunnel app

 

on your Android, iOS, or Amazon Fire tablet.
Log in with your email address (that you used at checkout)
Tap "Library" at the bottom of the app.
Tap a book to start listening!
You can also listen in your browser 
---
We Also Recommend
---