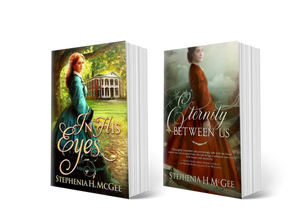 In His Eyes and Eternity Between Us: US shippping
Bundle In HIs Eyes and Eternity Between Us and save 30%
In His Eyes
About this premium paperback:
She pretends to be a Yankee officer's widow in order to survive. But what will she do when he returns home to a wife he didn't marry?
Ella Whitaker rescues a newborn from the dying arms of a woman of ill repute and at long last she has someone to love. In need of a wet nurse, she arrives at Belmont Plantation just as Federal soldiers demand to speak to the owner. Thinking quickly, Ella masquerades as a Yankee officer's widow in order to have a roof over her head and a home for the child. But now she must work even harder to hide her Scottish immigrant roots and play the part of a refined Southern lady or risk losing her only hope to keep her new son.
Union Major Westley Remington has dedicated his life to serving his country. The Civil War divided his family, tore his thoughts of glory, and left him with a wound that may never heal. Westley returns home to settle his father's estate at Belmont Plantation, only to find his house is being run by a fiery and independent woman—one many believe to be his wife. Now he is faced with a conflict he's never been trained to fight, and one she has yet to conquer.
350 print book pages  
Eternity Between Us
About this premium paperback
Two sides. Two hearts. And a gulf between them as deep and wide as eternity. 

"This tale brings a turbulent time to life with nuance and sensitivity."
JOCELYN GREEN, award-winning author of the Heroines Behind the Lines Civil War series
 Virginia, 1861
After being forced to use a pistol against invaders, Evelyn Mapleton is no longer the timid girl her extended family expects. The more her aunt and cousin resent her new independence, the more Evelyn is determined she'll make her missing father proud by taking up his cause and aiding Confederate soldiers--even if she has to outmaneuver the Yankees guarding her home to do it. 
Samuel Flynn's life is consumed with two priorities: learning to become a proper guardian for the young orphans he's adopted and obtaining his physicians license. When his final testing sends him to a Federal Army field hospital, the last thing he expects is to be entranced by a mysterious woman. But when Evelyn's misguided exploits put her life in danger, will he risk everything he's worked for to save a woman he thinks is his enemy?
Based on first-hand accounts from the Civil War and with a strong romantic thread, this is a tale of faith, espionage, hope, and courage historical fiction fans won't want to miss.
356 print book pages
---
We Also Recommend
---