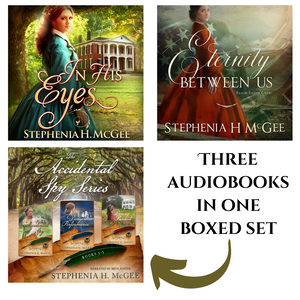 Historical Bestseller Bundle: Audiobooks
Special Collection includes FIVE full-length novels:
In His Eyes
Eternity Between Us
The Accidental Spy Series (includes all three books in the trilogy. An Accidental Spy, A Dangerous Performance, and A Daring Pursuit)
Listening Time: 47 hours 45 min
How it works:
Download the

 

BookFunnel app

 

on your Android, iOS, or Amazon Fire tablet.
Log in with your email address (the same one you will use at checkout)
Tap "Library" at the bottom of the app.
Tap a book to start listening!
Any audiobook you purchase from my author's bookshop will instantly show up in the app.
You can also listen in your browser 
About each book in the collection:
In His Eyes
She pretends to be a Yankee officer's widow in order to survive. But what will she do when he returns home to a wife he didn't marry?
Ella Whitaker rescues a newborn from the dying arms of a woman of ill repute and at long last she has someone to love. In need of a wet nurse, she arrives at Belmont Plantation just as Federal soldiers demand to speak to the owner. Thinking quickly, Ella masquerades as a Yankee officer's widow in order to have a roof over her head and a home for the child. But now she must work even harder to hide her Scottish immigrant roots and play the part of a refined Southern lady or risk losing her only hope to keep her new son.
Union Major Westley Remington has dedicated his life to serving his country. The Civil War divided his family, tore his thoughts of glory, and left him with a wound that may never heal. Westley returns home to settle his father's estate at Belmont Plantation, only to find his house is being run by a fiery and independent woman—one many believe to be his wife. Now he is faced with a conflict he's never been trained to fight, and one she has yet to conquer.


Listening time: 10 hours 59 min
 Listen to an audio sample HERE
Eternity Between Us
Two sides. Two hearts. And a gulf between them as deep and wide as eternity. 
"This tale brings a turbulent time to life with nuance and sensitivity."
JOCELYN GREEN, award-winning author of the Heroines Behind the Lines Civil War series
Virginia, 1861
After being forced to use a pistol against invaders, Evelyn Mapleton is no longer the timid girl her extended family expects. The more her aunt and cousin resent her new independence, the more Evelyn is determined she'll make her missing father proud by taking up his cause and aiding Confederate soldiers--even if she has to outmaneuver the Yankees guarding her home to do it. 
Samuel Flynn's life is consumed with two priorities: learning to become a proper guardian for the young orphans he's adopted and obtaining his physicians license. When his final testing sends him to a Federal Army field hospital, the last thing he expects is to be entranced by a mysterious woman. But when Evelyn's misguided exploits put her life in danger, will he risk everything he's worked for to save a woman he thinks is his enemy?
Based on first-hand accounts from the Civil War and with a strong romantic thread, this is a tale of faith, espionage, hope, and courage historical fiction fans won't want to miss.
Listening time: 8 hours 35 min
 Listen to an audio sample HERE
The complete trilogy of  Accidental Spy novels
Captured and mistaken as a spy, can she unravel a conspiracy before her secrets cost a man his life?
★ The Accidental Spy Series is a 2020 rewrite of the previously titled Liberator Series. (Leveraging Lincoln, Losing Lincoln, Labeling Lincoln). 

Book One: An Accidental Spy
Some secrets change the world
Once a privileged heiress, Annabelle Ross is now struggling to hold her home and her life together through the devastation of the War Between the States. But with a forced marriage and a desolate future on the horizon, her hopes are beginning to dwindle. When she discovers an encrypted note on a dying soldier, she seizes the opportunity to use it to deliver a message of her own. Instead, she's mistaken for a spy and captured. Now her only chance to escape is the handsome soldier in charge of discovering her secrets.
After his brother is captured by enemy soldiers, Matthew Daniels vows to rescue him at any cost. When a secret society offers him a chance for retribution, Matthew must decide between his loyalties and his convictions. To prove himself, he'll have to first unmask the spirited spy holding the key to their plans or risk losing his brother forever.
Book Two: A Dangerous Performance
History can change in the blink of an eye
Annabelle's bravery unraveled a destructive plot and saved the president, but now the thwarted conspirators grow desperate. While trouble turns more deadly in Washington, Matthew and Annabelle escape to New York, where they have finally succeeded in finding Matthew's brother. But breaking him out of Elmira prison is about as likely as saving her fractured inheritance.
Protecting Annabelle put Matthew on the wrong side of some very dangerous men, but he'd do anything to save the woman he loves—even if it means keeping her from the truth. With time running out and an unexpected miracle testing what remains of his faith, Matthew must confront his fears or risk losing her heart forever.
Book Three: A Daring Pursuit
To form a future, they must reconcile the past
When Annabelle failed to stop the nation's first presidential assassination, not only did the country plunge into chaos, but she's mistaken for one of the conspirators. Imprisoned and berated while waiting for trial, she wants nothing more than to return to Rosswood Plantation. But in order to gain her freedom she must decide between trusting a man from her past or keeping her faith in the increasingly distant soldier she's come to love.
Forced to choose between his allegiances and the safety of the people he loves, Matthew finds himself swept into the most massive manhunt in history. John Wilkes Booth has disappeared, and everything Matthew holds dear rests on finding the assassin. But to finally bring the conspirators to justice, Matthew must first conquer his own demons. Can he discover the power of redemptive love, or will his future with Annabelle be another casualty of war?
Listening time: 28 hrs 53 mins 
 Listen to an audio sample HERE
---
We Also Recommend
---