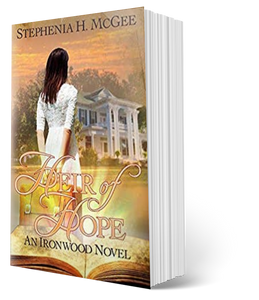 Heir of Hope (Paperback)
Book two of the Ironwood Plantation Family Saga

*These books can be read as stand alone, but to understand the family's full history, read them in order.
Rather have it in eBook? Click HERE
About this premium paperback
150 years after the Civil War nearly tore a nation asunder, the battle for freedom still rages in the heart of Ironwood's newest mistress. 
Emily Burns grew up an orphan, so she never expected to inherit a southern plantation. When she discovers an old diary hidden in the attic, her life becomes strangely entwined with her Civil War ancestor and she soon begins to wonder how a woman long dead can keep showing up in her dreams.

Torn between her strange desire to honor Lydia's wishes and practicality, Emily cannot decide if she will keep Ironwood. Yet the house calls to her like a melancholy siren, and Emily cannot resist its tune. Resolving to stay only for a little while, and telling herself her decision has nothing at all to do with the handsome handyman helping with restorations, Emily begins to unravel the history of Ironwood – A tale of love and loss, hope and redemption. When the story seeps into her heart, Emily finds that two women separated by centuries can share the unique bonds of family ties, and that both her past and her future reside in the soul of Ironwood. 
Note to reader:
Heir of Hope is the second in the series, but can be read entirely as a stand alone book. However, for those that read book one first, because of the ties that bind this book and The Whistle Walk, there will be some redundancy in the sections that deal with Lydia's diary. This is done to allow the reader who read the first book months or years earlier and the reader who has not read the first book to be grounded in the story. While some of the scenes from The Whistle Walk are experienced again within the diary, they are usually from a very different point of view, allowing those who read The Whistle Walk to see pivotal events in a new light. For those who read Heir of Hope first or on its own, these diary scenes are essential to the story, yet still leave more to be learned in The Whistle Walk. For that reason, these books stand on their own and can be read in either order, but do closely tie together.
Want to start with The Whistle Walk? Click HERE
336 print book pages
What readers are saying:
---
We Also Recommend
---