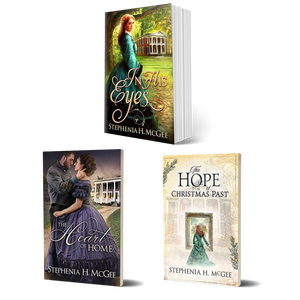 The Belmont Bundle (Paperback)
The Belmont Bundle includes Paperbacks of: 

In His Eyes, The Heart of Home, and The Hope of Christmas Past.
Rather have eBooks? Click HERE
In His Eyes
She pretends to be a Yankee officer's widow in order to survive. But what will she do when he returns home to a wife he didn't marry?
Ella Whitaker rescues a newborn from the dying arms of a woman of ill repute and at long last she has someone to love. In need of a wet nurse, she arrives at Belmont Plantation just as Federal soldiers demand to speak to the owner. Thinking quickly, Ella masquerades as a Yankee officer's widow in order to have a roof over her head and a home for the child. But now she must work even harder to hide her Scottish immigrant roots and play the part of a refined Southern lady or risk losing her only hope to keep her new son.
Union Major Westley Remington has dedicated his life to serving his country. The Civil War divided his family, tore his thoughts of glory, and left him with a wound that may never heal. Westley returns home to settle his father's estate at Belmont Plantation, only to find his house is being run by a fiery and independent woman—one many believe to be his wife. Now he is faced with a conflict he's never been trained to fight, and one she has yet to conquer.
A reconstruction ear romance with a feisty heroine and a love to overcome the odds.
The Heart of Home
He asked if he could die on her porch…but instead he brought hope for new life.
Once a wistful romantic, Opal Martin now simply aspires to scrub the remnants of the War Between the States from her tattered life. But when a nearly drowned soldier appears and asks if he can die on her porch, she must guard against the sudden revival of her heart's hope for love. 
Haunted by the war, Tristan Stuart just wants to escape the pain. But when he wakes up at a house that looks too much like home with a woman determined to mend him, he may discover a new life worth fighting for. In order to save the last of what Opal holds dear, will he become the man she needs or let the troubled waters carry him away? 
Fans of In His Eyes will also enjoy seeing Ella and Westley again in Opal's story. 
The Hope of Christmas Past
When a mysterious painting offers her a trip to the past, will Isla find new hope for her future?

On the brink of aging out the foster system, the last thing Isla Laird wants is to spend Christmas in an old-fashioned plantation. What's the point of bonding with her foster mom when it's too late to ever be adopted? But when a mysterious painting suddenly thrusts her into the nineteenth century, Isla is forced to face hurts and memories she's long tried to bury. With time running out and her heart in tatters, can God use an impossible miracle to bring Isla hope for a new future?

A heartwarming afternoon read of faith, family, and Christmas miracles. 
618 print book pages  
---
We Also Recommend
---