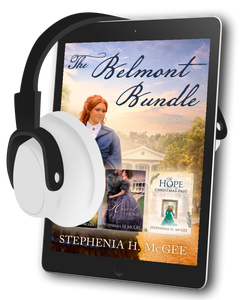 The Belmont Bundle: Audiobook & eBook collection
Get the bestselling novel In His Eyes with the bonus content of two companion novellas in both audiobook and eBook format!
In His Eyes
She pretends to be a Yankee officer's widow in order to survive. But what will she do when he returns home to a wife he didn't marry?
Ella Whitaker rescues a newborn from the dying arms of a woman of ill repute and at long last she has someone to love. In need of a wet nurse, she arrives at Belmont Plantation just as Federal soldiers demand to speak to the owner. Thinking quickly, Ella masquerades as a Yankee officer's widow in order to have a roof over her head and a home for the child. But now she must work even harder to hide her Scottish immigrant roots and play the part of a refined Southern lady or risk losing her only hope to keep her new son.
Union Major Westley Remington has dedicated his life to serving his country. The Civil War divided his family, tore his thoughts of glory, and left him with a wound that may never heal. Westley returns home to settle his father's estate at Belmont Plantation, only to find his house is being run by a fiery and independent woman-one many believe to be his wife. Now he is faced with a conflict he's never been trained to fight, and one she has yet to conquer.

The Heart of Home
Once a wistful romantic, Opal Martin now simply aspires to scrub the remnants of the War Between the States from her tattered life. But when a nearly drowned soldier appears and asks if he can die on her porch, she must guard against the sudden revival of her heart's hope for love. 
Join Ella's friend and neighbor in her own story and see Ella and Westley after the conclusion of In His Eyes. 
The Hope of Christmas Past
When a mysterious painting offers her a trip to the past, will Isla find new hope for her future?

Join Isla as she travels to Belmont in both the present and back through time to visit Ella several years after In His Eyes.
Listening time: 17 hours 15 min
Listen to an audio sample HERE
How it works:
Download the

 

BookFunnel app

 

on your Android, iOS, or Amazon Fire tablet.
Log in with your email address (that you used at checkout)
Tap "Library" at the bottom of the app.
Tap a book to start listening!
You can also listen in your browser 
How the eBooks work:
eBooks are also immediately in your BookFunnel app library! Simply click the eBook to listen along with the audiobook right in the app or click "Send to another app" (like kindle) or "read on another device" to send the book to your kindle, nook, kobo, etc. 
---
We Also Recommend
---