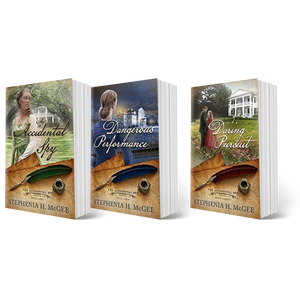 The Accidental Spy Trilogy
The complete trilogy of exciting Accidental Spy novels!

Rather have them in eBook? Click HERE
Captured and mistaken as a spy, can she unravel a conspiracy before her secrets cost a man his life?
★ The Accidental Spy Series is a 2020 rewrite of the previously published Liberator Series. 

Book One: An Accidental Spy
Some secrets change the world
Once a privileged heiress, Annabelle Ross is now struggling to hold her home and her life together through the devastation of the War Between the States. But with a forced marriage and a desolate future on the horizon, her hopes are beginning to dwindle. When she discovers an encrypted note on a dying soldier, she seizes the opportunity to use it to deliver a message of her own. Instead, she's mistaken for a spy and captured. Now her only chance to escape is the handsome soldier in charge of discovering her secrets.
After his brother is captured by enemy soldiers, Matthew Daniels vows to rescue him at any cost. When a secret society offers him a chance for retribution, Matthew must decide between his loyalties and his convictions. To prove himself, he'll have to first unmask the spirited spy holding the key to their plans or risk losing his brother forever.
Book Two: A Dangerous Performance
History can change in the blink of an eye
Annabelle's bravery unraveled a destructive plot and saved the president, but now the thwarted conspirators grow desperate. While trouble turns more deadly in Washington, Matthew and Annabelle escape to New York, where they have finally succeeded in finding Matthew's brother. But breaking him out of Elmira prison is about as likely as saving her fractured inheritance.
Protecting Annabelle put Matthew on the wrong side of some very dangerous men, but he'd do anything to save the woman he loves—even if it means keeping her from the truth. With time running out and an unexpected miracle testing what remains of his faith, Matthew must confront his fears or risk losing her heart forever.
Book Three: A Daring Pursuit
To form a future, they must reconcile the past
When Annabelle failed to stop the nation's first presidential assassination, not only did the country plunge into chaos, but she's mistaken for one of the conspirators. Imprisoned and berated while waiting for trial, she wants nothing more than to return to Rosswood Plantation. But in order to gain her freedom she must decide between trusting a man from her past or keeping her faith in the increasingly distant soldier she's come to love.
Forced to choose between his allegiances and the safety of the people he loves, Matthew finds himself swept into the most massive manhunt in history. John Wilkes Booth has disappeared, and everything Matthew holds dear rests on finding the assassin. But to finally bring the conspirators to justice, Matthew must first conquer his own demons. Can he discover the power of redemptive love, or will his future with Annabelle be another casualty of war?
1,100 print book pages
What readers are saying:
---
We Also Recommend
---